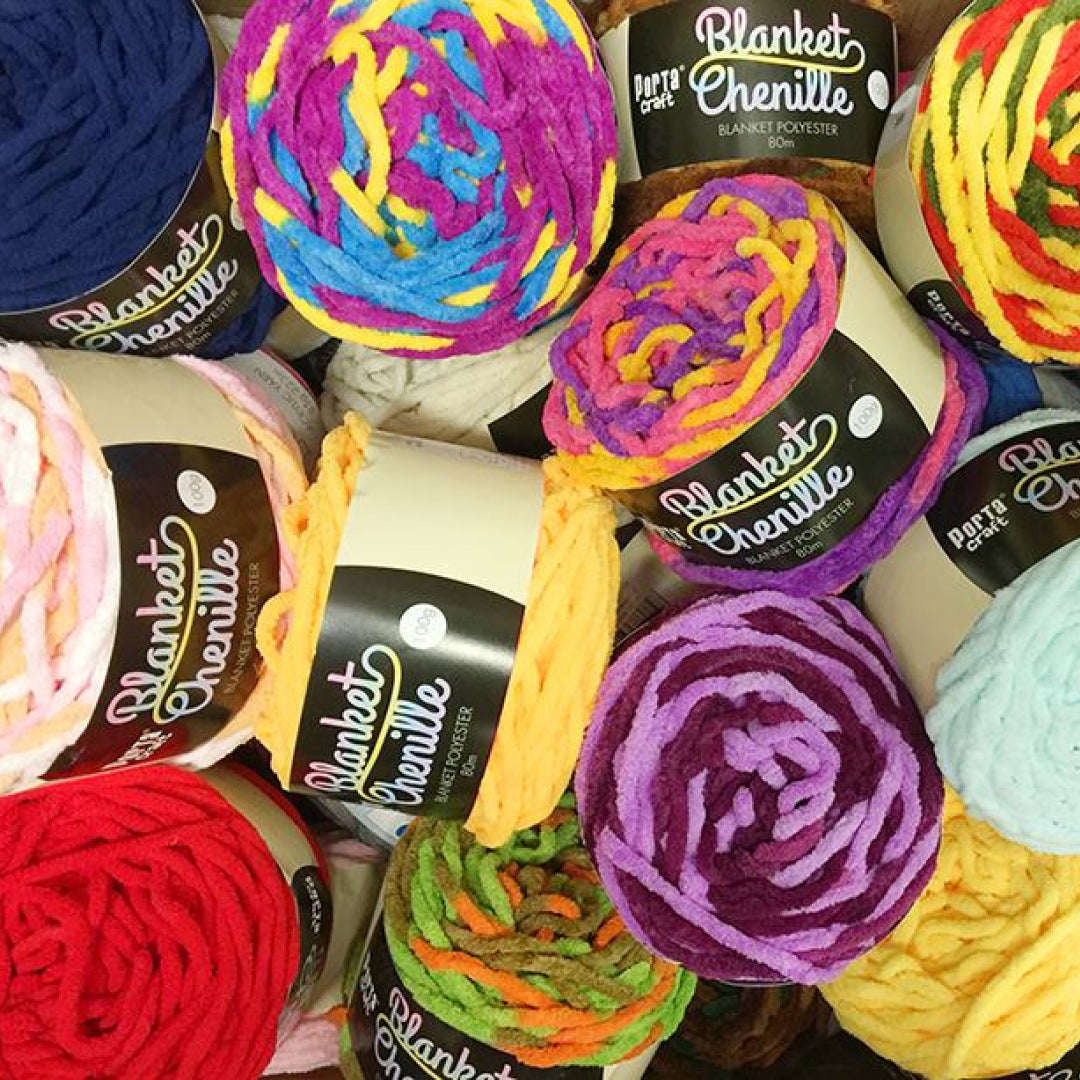 Winter Craft Ideas for Chenille Blanket Yarn
Even in Australia, there's nothing more comforting than snuggling up under a warm, cozy blanket. If you're reading this, you are obviously a knitting or craft enthusiast looking for your next idea and you're in for a treat. Today we are going to explore how this soft and luxurious yarn can transform your winter crafting projects. Get ready to add a touch of warmth and style to your creations!

Chenille Blanket Yarn is a delightful material that has gained immense popularity among crafters, crocheters, knitters and the like, for its incredible softness and versatility. It's currently our best seller. It's composed of velvety chenille fibers, giving it a plush texture that is simply irresistible. Available in various colours and thicknesses, this yarn is perfect for creating cozy blankets, throws, scarves, and other winter accessories.
Make a blanket & embrace the cozy bliss! Chenille Blanket Yarn is the ideal choice for creating snuggle-worthy blankets that will keep you warm in front of the latest show you are binging. Its softness against the skin is unmatched, making it the go-to material for crafting blankets that offer both style and comfort. 

Knit or chrochet an oversized hoodie. These oversized hoodies are becoming increasingly popular with the rise of Oodies and oversized fashion trends. Chenille Blanket Yarn is a joy to work with. Its plump, velvety texture glides through your fingers smoothly, making the knitting or crocheting process a breeze. Even if you're a beginner, you'll quickly get the hang of it and create beautiful fashion garments in no time. Here is a video tutorial we love for this by Dana B on Youtube. 

Other Winter Accessories: Chenille Blanket Yarn isn't limited to just blankets. You can explore a world of possibilities when it comes to crafting winter accessories. Knit or crochet stylish scarves, snoods, and cowls that will keep you warm while adding a touch of elegance to your winter wardrobe. You can even make matching hats or mittens to complete your ensemble.

Personalised gifts from the heart: Handmade gifts have a unique charm, and with Chenille Blanket Yarn, you can create personalised treasures that will warm the hearts of your loved ones. Craft a special blanket for a friend or family member, or even better if they've got a new baby! Incorporate their favourite colours or patterns and add their initials. The time and effort you put into creating a one-of-a-kind gift will surely be appreciated and cherished and we have so many new colours to choose from.

Make some soft toys! Some of our customers love to crochet soft toys out of this type of yarn because of how silky soft it is. Check out the toy below by customer Chloe from Chain Space!
LIKE our Facebook
or 
FOLLOW on instagram
for more inspiration or to chat with others dedicated to crafts. Our customers exchange ideas, learn new techniques, and showcase their beautiful winter projects.